As we enter this new year, we are both proud and happy of the work achieved in 2021.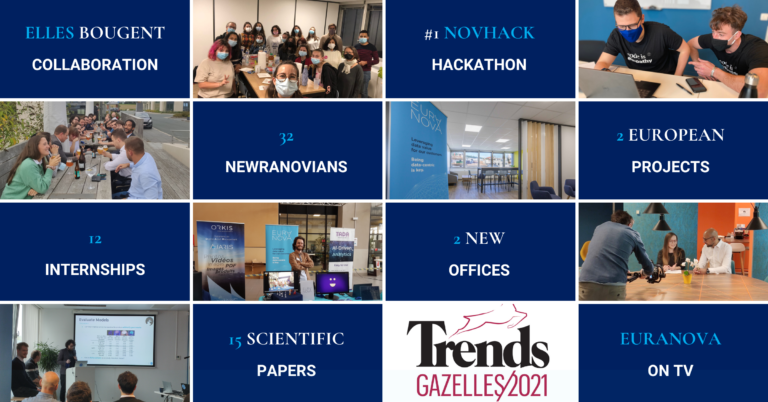 So let's wrap up! We got a deep dive into some of the most memorable moments of the year:
We welcomed 32 newranovians (including four new researchers).
Our French and Tunisian teams moved to their new offices! In Marseille, the team now work near the Vieux Port in a former Vermouth factory. On the other side of the Mediterranean Sea, the new office is located a few minutes away from the old one, in the business district along the lake of Tunis.
We collaborated on two European projects in the agricultural and engineering sectors. (Maybe three soon!)
We welcomed 12 interns working on various projects supervised by in-house experts across our three offices.
We published 15 peer-reviewed scientific papers in international conferences.
Euranovians shared their experience and expertise in five press articles (such as IEEE Potential or Le Vif). Our research director was also interviewed on the RTBF to share to the world how innovative technologies, and data science specifically, can solve complex challenges and reinvent business models.
Euranova was nominated at the Trends Gazelle, an annual award for the fastest growing Belgian companies.
We started our collaboration with Elles Bougent to promote scientific and technological careers for women!
We led scientific collaborations with major international conferences and universities (such as IEEE Big Data, DEBS, ECML, HEC, Ugent,…) to foster grounded research in data science.
We concluded our two-year research program ASGARD to help companies create more value with fewer investments, more reliability, and fully comply with the legislation.
Our first hackathon NovHack took place! It welcomed 71 participants from 18 universities in 5 countries, who challenged each other to carry out two adversarial attacks. (More information on our 2022 edition will be available next week, so stay tuned).
We had the opportunity to take part in numerous events and partnerships with the AI Belgian ecosystem (Agoria, Digital Wallonia, AI4Beglium,…) to foster AI innovation
And, finally, dozens of projects brought the cross-domain knowledge of our experts to clients around the world.
Thank you to all our partners and clients who trust us to help them move better and faster with their technologies!
And of course, big up to Euranovians who strive every day to improve, create value, and stand at the edge of knowledge in data science!
2021 has been one of growth and successes, big and small. We are very much looking forward to what 2022 will bring!
Happy New Year to all!