2022 gave us a lot to celebrate, so let's wrap up! We're taking a walk down memory lane: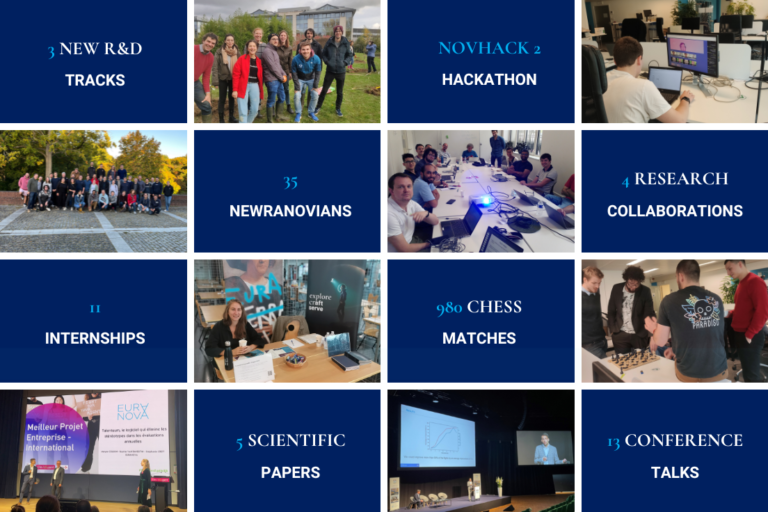 Let's go for a deep dive into some of the most memorable moments of the year:
We welcomed 35 newranovians (including 3 new researchers).
We collaborated on four international research projects, notably on intelligent data integration, interpretability of AI model decisions, advancing clinical research in medical imaging, and supporting the circular transition of the agri-food sector.
Euranovians shared knowledge and built relationships with other AI practitioners across the globe (let's mention DGIQ, IEEE Big Data, ECML, DEBS, Kubecon, or the SESAR Innovation Days).
We also welcomed 11 interns working on various topics supervised by in-house experts across our three offices. By the way, you have a few days left to apply to our 2023 internships. Find all our internship offers here.
We planted 30 trees together to create an Orchard at the Axis Parc.
We launched our new 2022-2024 research programme BISHOP to help companies tackle data complexity and ensure data confidentiality and trust in AI models.
We led scientific collaborations with major international conferences and universities (such as KUL, UGent, Uliège, or Aix-Marseille University) to foster grounded research in data science.
We continued our collaboration with Elles Bougent to promote scientific and technological careers for women. Read more about the project here, and contact Maryse to become part of the movement.
We played 980 rounds of chess, 15 football competitions, 3 badminton games, and 4 board game parties.
Maxime and the Novhack team organised the hackathon's second edition, welcoming 64 participants from 20 universities in 6 countries who challenged their data engineering and business skills with real-world data. (You can already register for the third hackathon edition here).
We won The Trophée de l'Egalité, in the Best International Corporate Project category!
The research and consultant teams published 5 peer-reviewed scientific papers in international conferences.
We continued our partnerships with the AI Belgian ecosystem (the Pod, Agoria, Digital Wallonia, AI4Beglium,…) to foster AI innovation.
And finally, we led dozens of projects bringing the cross-domain knowledge of our experts to visionary clients that rely on Euranova.
Thank you to all our customers and partners, who trust us every day to lead their industries and businesses forward with technologies.
And of course, a big up goes to Euranovians who strive every day for excellence, create value, and stand at the edge of knowledge in data science! It's a pleasure to work alongside you every day 🙂
Happy New Year!